Alone you are a force. Together we are
UNSTOPPABLE

.

CANT STOP is a mentality, and a shared energy that unites the ambitious ones - the grinders. We understand that when you're hurt, you can't simply stop everything. You can't just rest. Instead, make adjustments and keep going. Push forward. The CANT STOP Team is here to help you recover quickly and safely, maintain high performance, and unlock new levels so that you can be unstoppable.

We believe in your potential to be great and do great things. We take pride and passion in not only helping you reach your goals, but also in being your teammate along the journey. The synergy through being in it together allows us to achieve results and enjoy the process. We give our best efforts because we identify with your goals and what they mean to you.

Let's get right!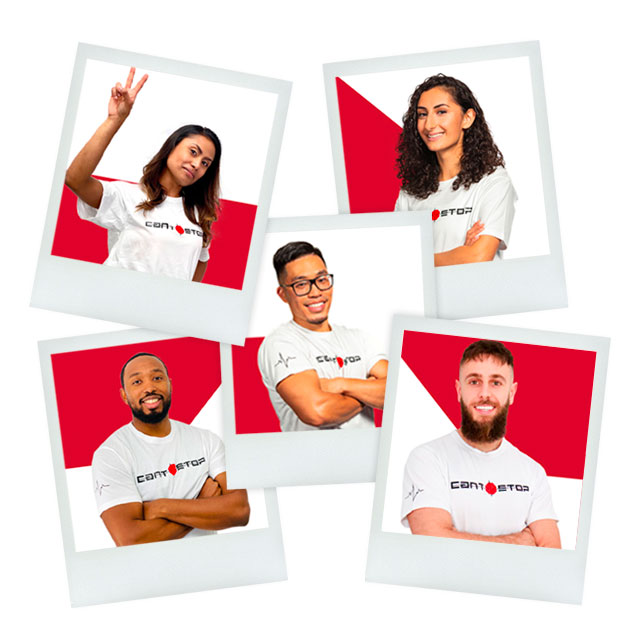 Meet the Team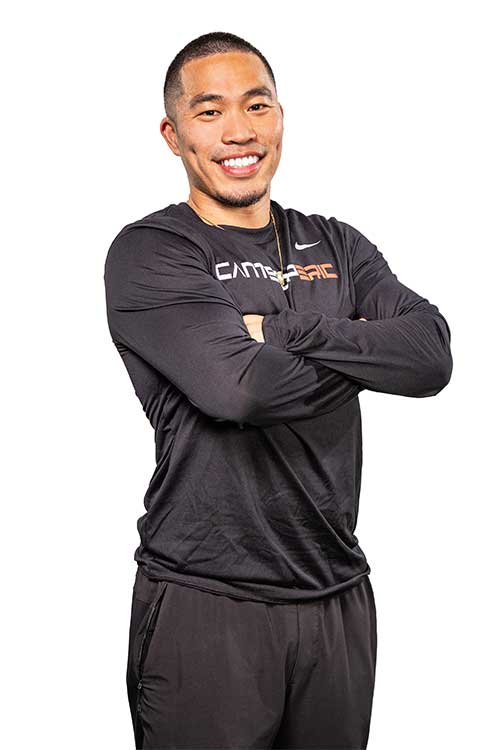 Specialty: Athletic Performance, Sport-injury management and rehabilitation of both acute and chronic conditions, Sport-specific Strength, Power, and Agility Training, Sport-specific return-to-play
Experience: Head of Strength & Conditioning for St. Marcellinus Secondary School Senior Boys Basketball, Humber College Varsity Teams & Therapy Clinic, Travelled to provide care for Nik Stauskas (Portland Trailblazers) during the 2018 NBA Offseason, Travelled with Thon Maker (Detroit Pistons) during the 2016 NBA Pre-Draft Workouts, Athlete Institute Therapy Clinic, Athlete Institute Prep Head Athletic Therapist, Orangeville Prep Head Athletic Therapist, Orangeville A's (NBL Canada) Head Athletic Therapist, Toronto 2015 Pan Am Games Lead Medical Practitioner, Seneca College, various Toronto Rugby Clubs, North Halton Crimson Tide Football Team, Toronto Raptors Basketball Academy, Toronto FC Camps & Clinics, York University Varsity Football Team.
Eric
CAT(C), RMT, CMAG, CSCS
Eric "E" Matias is an Athletic Performance Therapist, effectively integrating manual therapeutic methods and strength training principles to help people achieve their health and performance goals. After graduating from York University's Kinesiology Program and the Athletic Therapy Certificate Program in 2013, Eric continued to pursue mastery in his craft. He went on to obtain his certificate as a Registered Massage Therapist, and completed McMaster's Neurofunctional Acupuncture Program. Eric was working as the Head Therapist with professional and high-level teams, and achieving great results with his athletes through the combination of manual therapy, acupuncture, and exercise. Eager to learn more, he went on to complete McMaster Acupuncture's Advanced Program. After that, he also spent some time in the Instructors Program, training to be an Instructor and honing his skills among some of the best practitioners.
Admittedly, Eric wishes he were the athlete. This rooted desire is what drives his passion, as he lives vicariously through his clients and helping them reach their goals. Throughout his career, he has remained consistent in the weight-room; learning from S&C Coaches, studying, and training as if he were preparing for competition. It only made sense that he also earn the title of Certified Strength & Conditioning Specialist and apply his knowledge and experience to training basketball athletes. He not only aims to help athletes with a fast recovery from injury, but strives to educate and empower them so they can reduce vulnerability to injury. This is achieved through specific and strategic training - catering to the individual's goals, sport, injury history and any imbalances – so that they can move well and strong.
Eric began his own practice at his home-office in 2017, and has been fortunate to build a steady client base of elite athletes and active individuals completely through word-of-mouth referrals. To continue serving the dream chasers and go-getters, he had to recruit excellent practitioners to join in the mission. Thus, the CANT STOP Team came together through divine timing. To balance his passion for helping private clients and working team sports, Eric also works part-time at Humber College, where he provides care for the Varsity Teams. When not working, he is likely lifting weights, playing basketball, or spending time with friends and family.
Richard
CAT(C), RMT, CMAG, CSCS
Registered Physiotherapist
Richard Iheadindu is a graduate of the Queen's University Master of Physical Therapy program. Since then, he has rehabilitated a wide variety of clientele ranging from the high-level athletes and fitness enthusiasts in private practice as well as the acutely ill, deconditioned patients in a hospital setting. He has continued his postgraduate education completing courses in manual therapy, soft tissue release and acupuncture and continues to advance his training in orthopedics. He is a former University basketball athlete who is still passionate about sports and staying active. He strongly believes that the capacity of movement, free of pain and limitations, leads to increased quality of life and mental well-being.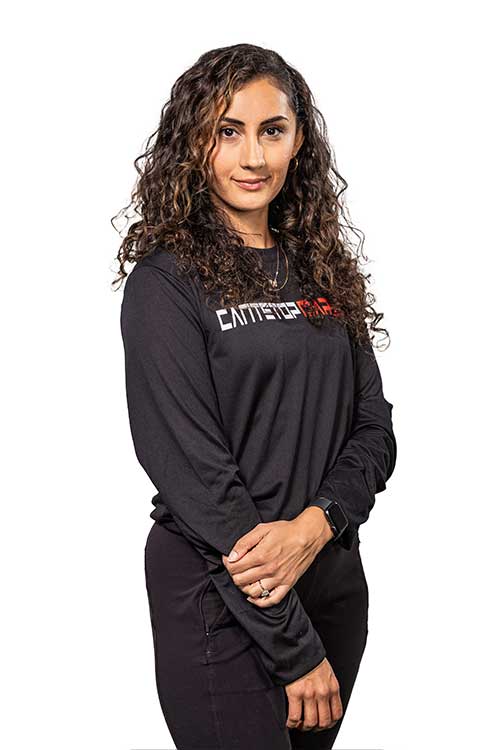 Marwah
Marwah Hashimi is a Certified Athletic Therapist (Provisional) from Vaughan, Ontario. She completed her undergraduate degree in Physiology and Human Biology at University of Toronto before completing her Athletic Therapy degree at Sheridan College.
Marwah is also a Personal Trainer and Emergency First Responder. She has experience working with competitive athletes such as Varsity Women's Volleyball team, Provincial Youth Soccer and individuals training for Iron Man.
As an AT, Marwah specializes in the assessment and treatment of injuries both on and off the court. ATs use sport medicine to provide faster recovery from injury, improve neuromuscular strength and increase performance for optimal health and sport. A big part of her treatments involve functional movement related to the activities and sports her clients love doing.
Specialty: Progressive strength training, high performance and sport-specific training, lower limb injury mitigation and rehabilitation, manual / therapeutic techniques for musculoskeletal conditions
Experience: Performance Therapist for the Guelph Nighthawks (CEBL), Student Physiotherapist for the Glasgow Rocks (British Basketball League), Student Physiotherapist for U16 Scotland national team, Therapist & Strength and Conditioning Coach for the Niagara River Lions (NBLC), First Responder for R.I.C.C. Prep Football, Student Physiotherapist for the 2020 CEBL Summer Series, First Responder for Vaughan Prep Secondary School (Basketball)
Kevin
Kevin Wilson recently completed a masters degree in physiotherapy while studying in Scotland. Prior to his studies in the UK, he earned a degree in kinesiology from Brock University and a diploma in 'fitness and health promotion' from Fleming College. He played on the varsity basketball teams at Brock U. and Fleming College. Currently, Kevin is the founder of the National Basketball Youth Mentorship Program (NBYMP) based in both Canada and the UK.
As a Therapist and Strength Coach, Kevin is able to progressively optimize human performance and takes a holistic approach with each person. He uses a variety of manual skills to promote recovery and uses corrective exercises to encourage long-term adaptations. While his passion is with elite athletes, Kevin's approach is unique and can be adapted to assist people of all ages and fitness levels.
Contact Us
211-1515 Matheson Blvd E. Mississauga, ON.
Call/Text: 647 248 3742
Email: team@cantstop.ca